Archive for March 14th, 2017
Just last week, I decided to use my savings to put up the awning type in the laundry area. It has been like years that I am planning to put one up but I always out of budget so last December, I tried to save up and was able to come up with an amount, I planned to just withdraw it on May but I realized summer is fast approaching and it would be so hot in our laundry area, my sister already have a hard time doing the laundry there how much more during summer. So I withdraw it and hired someone to do it and its worth it, sister is so happy with it, she doesn't have to suffer anymore under the dreading heat of the sun.
It started like this: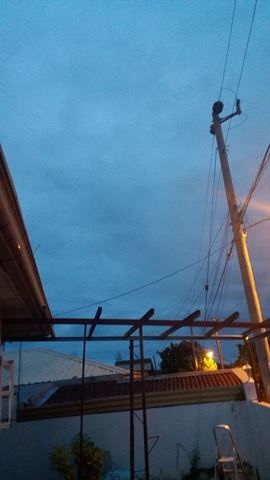 Whether you're want to redecorate your home completely with a style that's different than you're used to or simply want to make some changes to improve your space, you don't need to spend a fortune to get results. It's tempting to go ahead and buy a lot of fancy furniture and decor at the store and hope it works in your space. But these kinds of decisions will lead to disappointment and a waste of money. Instead, make smart decisions to redecorate your home without breaking the bank. Here are five ideas to get you started.
Paint It Yourself
Nothing changes a room more quickly than adding a coat or two of paint in a fresh, vibrant color. It won't cost a lot of money if you do it yourself, and painting your interior walls can be easy with a little practice. You don't even need to paint the whole room. Even just adding a colorful accent wall can make a huge difference.
Rearrange the Furniture
Instead of buying a whole lot of new stuff, think about reusing and repurposing things that you already have. Think about the way your furniture would look in a different arrangement, including moving furniture between rooms. Rearranging your furniture can make a big change for little money.
Buy Furniture at a Reputable Store
Don't waste your money on low-quality goods that you buy on impulse. Do your research before you buy. For example, if you need phoenix area furniture stores, try to find a company with a good reputation like Kerbys Furniture. That way you'll know you're getting something good and can feel confident that it will last a long time.
Add Fun Details
You don't have to buy new furniture if you redecorate the old stuff with new accessories. Add throw pillows in a bright color or add a funky and fun rug on the floor. A piece of art on the wall or table can add sophistication and interest to any room. Pick something that you really love to add character to your space.
Be creative and Do it Yourself
Even if you're not a very crafty person, try your hand at some home decor projects. You'd be surprised how easy it is to make minor changes to your home and furniture with a little work. Let your personality shine through your decor.
These are only the basic tools that homeowner must have:
Drill and Drill Bits this driver can be used for in a basic or even huge task at home. Let's say you need to drill your wall to put frames or some wall display.
You may need adjustable crescent wrench to tighten some bolts for your furniture, cabinets or closet. You don't need the whole set, two kinds will be enough since the jaws can be adjusted to fit nuts or bolts.
Moreover, hammer is the most tools that you should have in your house, at least if there are some repairs that you can handle in your house, you have your hammer that can be a big help when you do the task.
You must keep an extension cord in your house too, so in case you will have an outdoor parties, this extension cord can save the Videokes, games, and sounds so your party will be lively.